BlackBuck, Addax, Impala, Gemsbok, and more...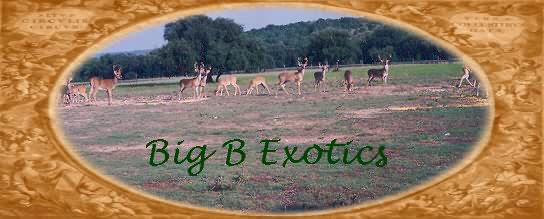 We sell Animals at Big B Exotics


Home | Animals | Emu Products | Web Links | Find us
Big B Exotics is located in the Heart of Texas, in Bosque County. For directions click here. We've been here since 1966 and have worked hard to control the genetics and herd characteristics of the exotic game that we manage here. Being animal ranchers ourselves, we know you want quality animals. We buy and sell live exotic animals to stock other ranches, zoos, and animal parks.
We cater to those looking for quality live animals, so if that's what you're looking for, . Bring everything you need, because we don't have a hotel or restaurant, but some nearby towns have all that stuff if you need it. We hope to see you and believe that once you visit, that you'll be back, just as most of our customers have. We deliver too!


We can get you what you want at the Best prices.

Please join our Mailing List to get emails of the latest Animals and equipment for Sale!

We have Emu Products too! Emu Oil can keep you in hunting shape. Order some now.



Check out our Web Links !

To Buy or Sell some animal(s), or just to say Hello, Send e-mail to:
Call or write us at:
Big B Exotics
Owner: John Bodovsky
5059 CR 2130
Iredell, Texas 76649
(254) 364-2441



Home | Animals | Emu Products | Web Links | Find us

The counter says you are visitor number
Web Page created & maintained by:
Free JavaScripts provided
by The JavaScript Source